The 9 essential characteristics of TORNADO.





---
SteadyTorque™

 high power generator.
The masterful engineering of the rotor's micron-precise shape and configuration, coupled with optimal air pressure distribution and exhaust flow, warrant the Tornado an unrivaled 30-watt power output. To contribute to an impeccable user experience, the turbine's head is ergonomically compact and the sound level at an all-time 55-decibel low. This exclusive technology is complemented with specially-designed ceramic ball bearings capable of handling the highest speed and heaviest loads, guaranteeing the Tornado superior durability and resilience.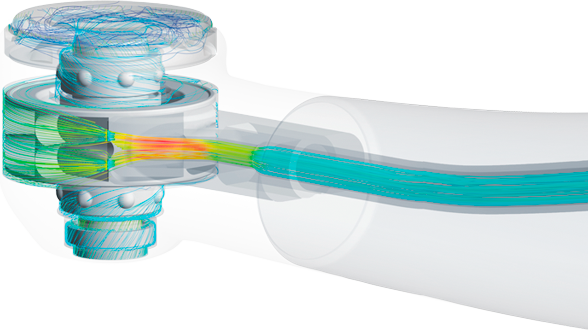 ---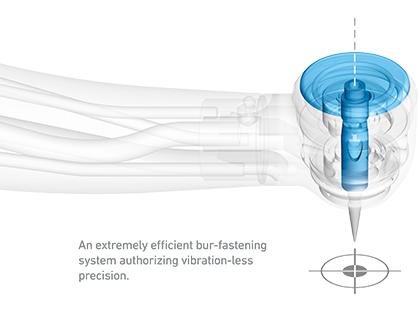 Accu-Chuck PreciPlus™
bur-locking and rotation drive mechanism
This revolutionary technology assures a staunch clamping of the bur, eliminating all vibrations, and granting the TORNADO unequaled stability and comfort for the most precise dental work. Conversely, bur-release is made quick and safe, thanks to Bien-Air's unique Soft Push™ system.
---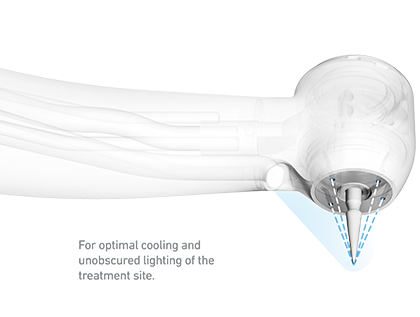 Accu-Spray Quattro Mix™
with LED illumination

This exclusive system converges four asymmetrical laser-precise air/water sprays onto the tip of the bur for rapid and even cooling of the operative field. In combination with a LED light, unobscured intraoral visibility is guaranteed.
---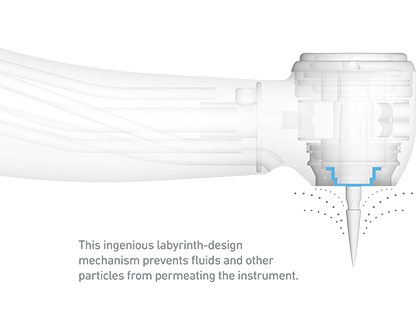 Sealed Head™ contamination control
In combination with an anti-retraction valve, this wear-resistant mechanism prevents oral fluids and other organisms from infiltrating the instrument's head, water lines, and treatment unit. This obviates the risk of patient cross-contamination and noticeably prolongs the ball bearings' lifespan.
---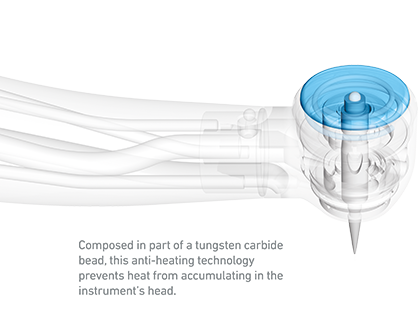 Cool Touch™ safety
Conveniently integrated into the head's push button, this patented anti-heating technology is designed to maintain the instrument's head at a safe temperature, thus significantly decreasing patient burn injuries.
---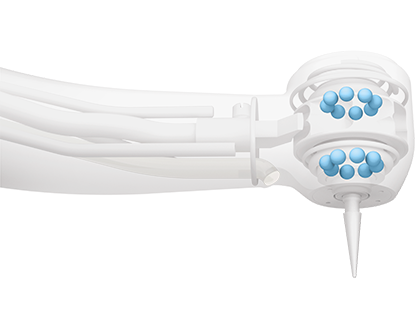 Custom-designed ceramic ball bearings
These wear-resistant Bien-Air ceramic ball bearings grant the handpiece extended service life and contribute to lower acoustic noise levels.
---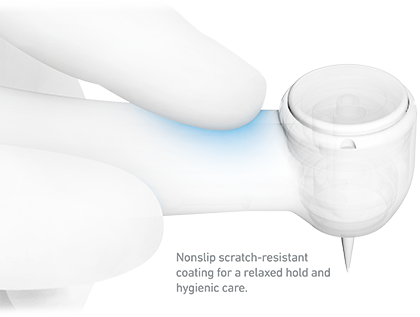 TotalTact™ coating
This smooth hygienic nonslip coating presents elevated resistance to scratching and abrasion and withstands the high temperatures of repeated autoclave sterilization cycles.
---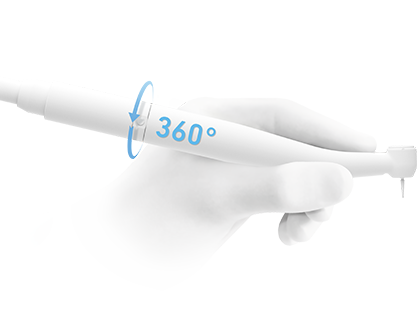 Free move
Freedom of movement for optimum working comfort. Thanks to its light rotating Unifix quick-connect connection and an easy-to-use secure release, the Bien-Air turbine/hose combination will prove a pleasant work companion day in, day out.